Light Falling Weight Deflectometer
for load bearing capacity test
The Light Falling Weight Deflectometer for the dynamic load plate test from TERRATEST® offers a fast and simple method of testing soil bearing capacity and compaction qua­lity. As a specialist in Light Weight Deflectometers TERRATEST® develops inno­vative measuring instruments based on the customers' requirements in terms of performance, efficiency and construction site suitability. TERRATEST® provides a complete, comprehensive range of products of Light Falling Weight Deflectometers for earth­works, road construction and track laying.
Light Falling Weight Deflectometers made by TERRATEST® are in use all over the world. Over the years more than 6000 units have been put in place. They are being used in all continents of the world. The special quality of our Light Falling Weight Deflectometers combined with our large product range and the high-quality of manufacturing have given us a high reputation among users: Whether with the German Army in Afghanistan, during urban civil engineering in Munich or while building the Bejing-Shanghai High-Speed Railway – wherever construction takes places, such as earthworks, road- or civil engineering, TERRATEST® is highly valued for the high quality of the robust and precise Light Falling Weight Deflectometers.
International regulations for compaction test
The
Light Drop weight Tester
from TERRATEST® complies with German and international regulations: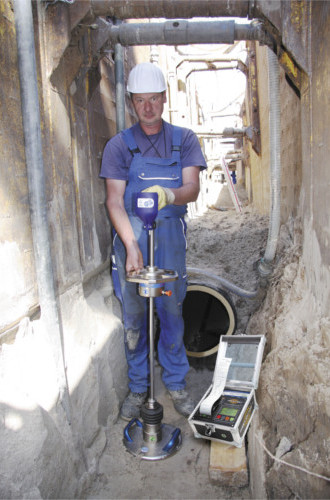 TP BF-StB part B 8.3 edition 2012 German regulation: Engineering Code for Soil and Rock in Road Construction
ASTM E2835-11 American Standard Test Method for Measuring Deflections using a Portable Impulse Plate Load Test Device
ZTV E-StB 09 German regulation: Additional terms of contract and rules for earthwork in road construction
ZTV T-StB 95 German regulation: Additional terms of contract and rules for subbases in earthwork
ZTV A-StB 97 /2012 German regulation: Additional terms of contract and rules for excavation in traffic access
RVS 08.03.04 March 2008 Austrian regulation – Compaction test by means of dynamic plate load test
RIL 836, Deutsche Bahn AG Guideline for the use of the measuring equipment in railway construction
UNE 103807-2:2008 Spanish regulation – Plate Load Test by means of the measuring equipment – part 2
TB 10102-2004, J338-2004 Chinese regulation – Regulation for soil testing in railway construction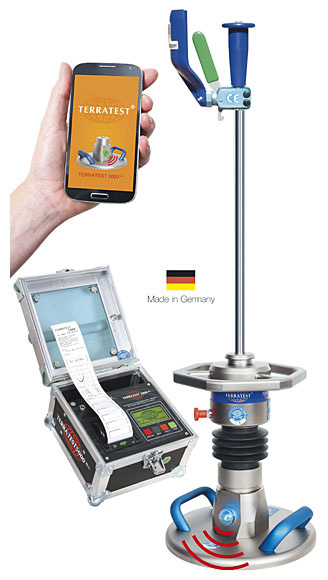 Light Falling Weight Deflectometer perfect for testing soil compaction
unbeatable price
compaction control in only 2 minutes
no vehicle required
immediate test results on construction site
TERRATEST manufactures two models of the Light Weight Deflectometer for the dynamic load plate test: TERRATEST 5000 BLU works wirelessly; TERRATEST 4000 VOICE works with cable connection. Both are inside the weatherproof, fully equipped electronics box ROBUSTA. To protect the electronics from sand on site, you can operate the measuring computer of TERRATEST Light Weight Deflectometer via an external button. The measuring computer will be protected against dust and rain all over your construction site.
TERRATEST provides a wide range of accessories for the Light Weight Deflectometer for dynamic load plate tests, such as the mobile testing system CARRELLO or the transportation box MILANO.