Recently, the Ministry of Defence of the Netherlands ordered a Light Drop Weight Tester TERRATEST 4000 USB for the UN mission in Mali.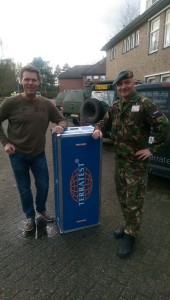 Our Dutch neighbour is present in the area with 450 special forces, in order to fight Jihadists in this North African country. In spring, the German Armed Forces will conduct educational work in Northern Mali, in order to trace down terrorist groups and militias in this extremely large country.
The Light Weight Deflectometer TERRATEST 4000 USB is being used by the Dutch military during the construction of military bases for the German Armed Forces. In the process, the bearing capacity of the ground is being tested, before putting up tents and containers.
TERRATEST employee Falko Weiss explained the operation of the device upon its delivery in Holland's Wezep. "It is interesting to see where in the world the Light Weight Deflectometer for the dynamic load plate test is put to use", says Falko Weiss. "When Terratest can make a contribution to a UN mission, then I am also a little bit proud of myself, but I was pleased nonetheless that I could deliver the device to Holland and not to Mali", Weiss adds.