Light Drop Weight Tester TERRATEST 4000
Light Drop Weight Tester with cable connection
Light Drop Weight Tester "TERRATEST 4000 STREAM" is ideal for testing the bearing capacity, in road construction, earthworks, pipeline and cable works, backfills, airport runway/taxiways, dam construction, railway track beds, embankments and foundations. The Light Drop Weight Tester for dynamic load plate test with cable connection has a hughe price-performance ratio because all features are already included and the nice price is unbeatable worldwide. You can order your TERRATEST 4000 STREAM in our online shop, we have all devices in stock ready for dispatch.
The Light drop weight tester "TERRATEST 4000 STREAM" with cable connection and voice navigation is particularly popular due to its user-friendly one button handling. Even nonexperts are able to check the compaction quality within two minutes at the construction site. The measurement electronics are equipped with a printer, GPS system, USB flash drive as storage medium, and a graphic display. All components are being supplied by a central, powerful, rechargeable highperformance battery. The weatherproof electronics box protects the measurement electronics even at rough site conditions. Thanks to a large inspection window the electronics can be operated with the lid closed via an external button during the test. The measurement electronics of the "TERRATEST 4000 STREAM" have undergone a test regarding the IP protection classes. The test provides insight in terms of under which environmental impacts the test Computer withstands water and dust permanently. The suitability of the devices for outdoor use has been confirmed by their protection level which has been classified as IP 53. "TERRATEST 4000 STREAM" was certified recently with the TÜV GS mark by TÜV Rheinland. The Light drop weight tester is produced in Germany. All quality and safety standards are being met verifiably.
Light Drop Weight Tester
according to ASTM E2835-11, fully equipped

Weatherproof box with large window
and external control button
GPS system with satellite photo illustration
Integrated printer for immediate printout
USB flash drive for convenient data transfer
PC software "TERRATEST 2.0"
for analysis and management of data
High-capacity rechargeable battery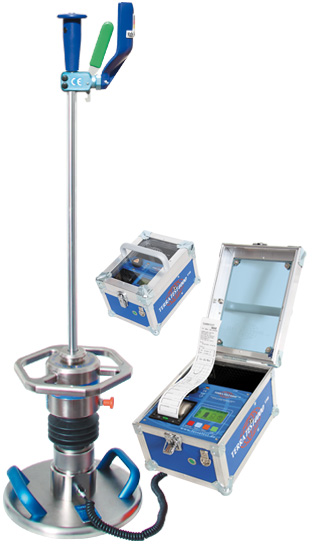 Light Drop Weight Tester with all features

Best Price Guarantee



weatherproof box
with large window

external one-button-control

GPS system

integrated printer

high-performance
rechargeable battery

Online software "TEOLO"

The new Light Drop Weight Tester TERRATEST 4000 STREAM was developed on the basis of TERRATEST 3000 GPS, the best-selling model of the last years. It was presented for the first time at the BAUMA 2013 in Munich. All components, such as GPS system, printer, graphic display, buttons, powerful rechargeable battery, and USB drive, are compactly fitted into the electronics box "ROBUSTA" to always guarantee an easyand protected handling on site.
Light Drop Weight Tester TERRATEST 4000 STREAM uses an USB drive for comfortable transfer of the test data to a PC. With the included web based software "TEOLO" the evaluation of the test data is absolutely easy. It enables you to present all test sheets in a professional way.