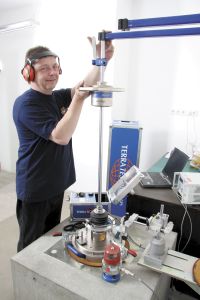 According to the German standard TP BF StB Part B 8.4 the Light Weight Deflectometer for the dynamic plate load test must be calibrated once a year. What could be more reasonable than choosing the cold season for the calibration? From experience we can tell that most construction activity will be suspended as soon as the outside temperatures drop below zero. During calibration the Light Weight Deflectometer will be checked through thoroughly. It will thus guarantee completely precise test results in the next season. TERRATEST is well prepared for the wintery rush and calibrates the Light Weight Deflectometers in two shifts. "We are well set up and promise all customers an immediate calibration of their Light Weight Deflectometers", says Dr. Bernhard Korsch, manager of the calibration department at TERRATEST. "Our entire team works hand in hand, which is why there is hardly any waiting time", adds Dr. Korsch.
Additionally TERRATEST offers its customers an extra special service: "On request we calibrate your Light Weight Deflectometer instantly and we do so at no extra cost", says production manager Sven Krone. "More and more of Terratest's customers make use of this service, especially our customers from the Berlin area. Our office is conveniently located right at Berlin's northern motorway ring", adds Krone. "Even our Polish customers increasingly enjoy using this service."
And also the logistics are very well organised at Terratest. "Of course we also offer our customers a comfortable pick-up and delivery service, so that the calibration procedure including logistics can be carried out in an uncomplicated manner", says Frank G Schulz, managing director of TERRATEST GmbH. "More and more customers worldwide rely on the high-quality Light Weight Deflectometers from TERRATEST", adds Schulz.
Before dispatch every calibrated Light Weight Deflectometer undergoes an extensive performance check according to a strict checklist. This ensures that TERRATEST customers can always count on a reliable operation of their Light Weight Deflectometer for the dynamic plate load test.