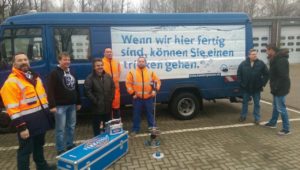 The light weight deflectometer for dynamic plate load test is to be immediately put into use in the Free Hanseatic City of Hamburg for quick and precise compaction testing in construction projects for water supply and water disposal – including water supply works, sewage works and energy supply. Via the two arms of the business, Hamburg Waterworks and Hamburg City Drainage, Hamburg Wasser ensures a safe and healthy water supply and disposal in the Hanseatic city and in the neighbouring communities. In order to handle building sites even more effectively and quickly in the future, Hamburg Wasser decided to buy a light weight deflectometer.
At Hamburg Wasser, work is carried out day and night in order to renew or replace pipes and sewers in the city and in the Hamburg vicinity. Building sites must be completed as quickly as possible and with as little nuisance to residents and traffic. In the future, the TERRATEST 4000 Voice light weight deflectometer will help to achieve this. The device, which is also called the light drop weight, has a quick testing process and easy to use voice navigation and internal plausibility check, which are just two of the things in favour of dynamic plate load tests. In Hamburg, the light weight deflectometer's comprehensive equipment with printer, GPS, and power battery and the protected, weatherproof measurement system, ROBUSTA for TERRATEST® was the reason for choosing this device.
Hamburg Wasser is in good company in the Hanseatic city. The Hamburg Port Authority, HPA, owns a light weight and a medium weight deflectometer TERRATEST 5000 BLU, which is already playing a vital role in the obligatory quality controls in infrastructure measures of civil engineering and road construction in the harbour area.